VISUAL POEM 4'10" ︎ CGI / STOP-MOTION
︎︎︎ C2H5OH - a social lubricant or isolator?

The Social Lubricant is a short visual poem recounting the alienating actuality of the teetotal lifestyle. It's based on 24 words submitted by 12 drinkers and 12 nondrinkers.



︎︎︎ IMDb
Year of production
Runtime
Aspect ratio
Format and resolution
Language
Subtitles
Genre
Technique
2021
4' 10'
2.39:1
H.265 2k SCOPE
Slovenian
English
Visual poem
Mixed media:
CGI and
stop motion animation
︎︎︎ Stills
PROJECT BACKGROUND
︎︎︎ A friendly conversation

︎︎︎


After conducting theoretical research on the rise of teetotalism, its alienating actuality, and coping strategies, I started interlacing it with applied research. A friendly conversation was a 3-hour steered conversation with my lifelong friends, during which we reflected on alcohol consumption through the lenses of grief, conformity, masculinity norms, shame, and parenting. It was the first step towards interpreting my personal motivations and the response of my most immediate milieu. Plasticine sculptures were employed as dialogue catalysts.






︎︎︎ What about others?
What do "the people of the internet" think of drinkers/non-drinkers? To gather data, I asked 12 drinkers and 12 non-drinkers (strangers/friends) to come up with their descriptors for the opposing group. Of 24 submitted words, you would perhaps find some overly-flattering, a few prejudiced, some politically correct, and some less so, and of course, for some, we cannot but assume they carry a decent amount of self-pity. Ironically or not, all of them have found their way into the final poem.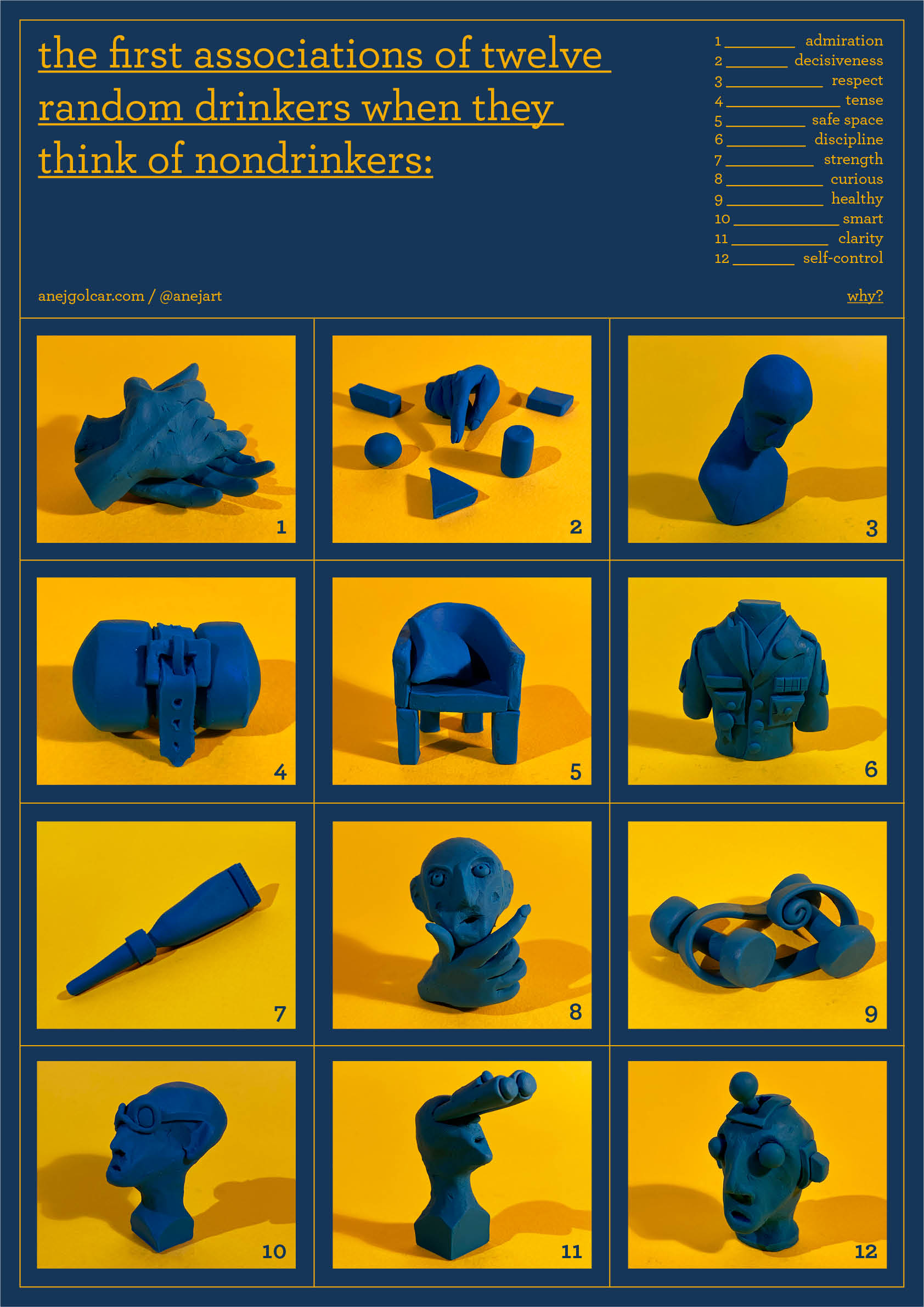 ︎︎︎ Exhibition/interactive installation @V11 Rotterdam
At V11 (A floating bar/venue, hehe), I exhibited my intuitively formed sculptural interpretations of the 24 words, devoid of the context and preconception. The very same plasticine that morphed into bricks on-screen now formed a wall between two participants engaged in conversation. Both players were invited to remove a brick from the wall, and with the aid of a thematic cue, collectively find sculptural solutions. Through dialogue, they provided a definition/context to both clay and the signified, de-stereotyping them into a freshly formed conceptual landscape.
Minor Visual Cultures+ (Honours programme) 2021